Local and National Delivery Service
National Delivery Services 
We offer a selection of delivery services throughout the UK depending on the items that need to be shipped.
Small parcels and packages will be shipped using various couriers and royal mail. Estimated shipping times will vary throughout the year but we will always aim to get your parcel out to you within 3-5 working days.
For large items, such as Garden Furniture, BBQs and certain outdoor appliances, we use trusted specialist couriers to handle your orders. Whilst we endeavour to get your order out ASAP please understand that because of the unique nature of the products, delivery times can take up to 14 working days, depending on the availability of our couriers. For the most accurate delivery times, please get in touch with a member of our team.
Certain large items, we are unable to ship nationally but these will always be available with our local service or for free click and collect.
Garden Furniture/BBQs 
Where possible our delivery teams will place your order where required in the garden. This service is only available when a two-man team is used, when access is ok or when someone is at home to assist the driver with delivery.
All orders will be fully insured in transit and any problems should be notified to sales@trioscape.co.uk at the earliest possible moment.
In-store there is a premium build up service available on all furniture (BBQ's not included). Please get in touch for more information about this.
Charges 
Orders over £75 for *standard parcels* will receive Free Shipping in England and Wales.
Items that do not qualify for Free Shipping will be priced at checkout after you have entered your postcode.
For small standard parcels and packages that do not qualify for free delivery, you will be charged between £3.00 - £12.00 depending on the product.
For large and bulky items that couriers will not handle we offer local delivery.
Please get in touch if you have any enquiries about this service.
*Standard Parcels* - Parcels that do not exceed normal courier size and weight limits. For example, this is usually within 160cm in length and less than 20kg.
If you encounter any issues at checkout, with incorrect charges or any other problems that stop you from completing your order, please get in touch.
Local Deliveries 
Throughout Gloucestershire, Herefordshire and Worcestershire (plus parts of Monmouthshire) we offer a delivery service for all the products we sell online and in-store. This service is particularly useful for all anything you can't fit in the car or for those awkward items you can't manage to move by yourself.
Our team of experts will be more than happy to oblige with any delivery task, we regularly help our customers with furniture, planters, compost and a whole host of other garden-related products.
Need something built or put in place? Not a problem. Depending on the size of the job and the access to your home, we have various services available that will allow you to order what you want and have peace of mind in knowing that we will look after the rest.
To find out more about all the services we offer and to get prices, speak to a member of our delivery team by giving us a call or email your enquiry to sales@trioscape.co.uk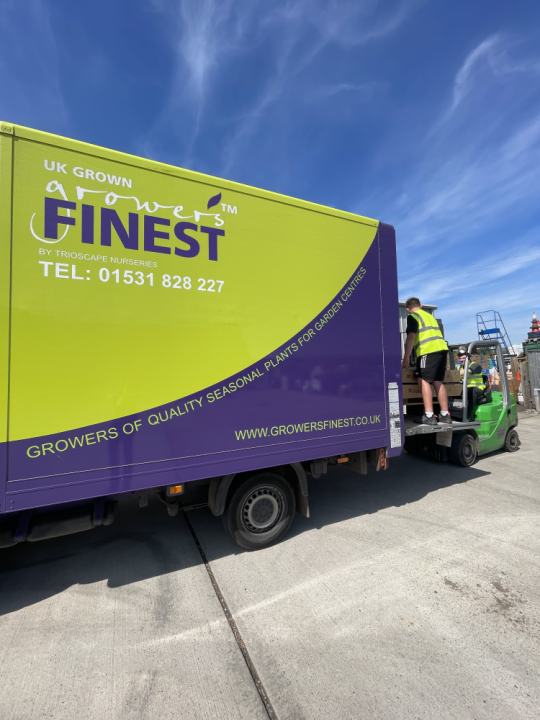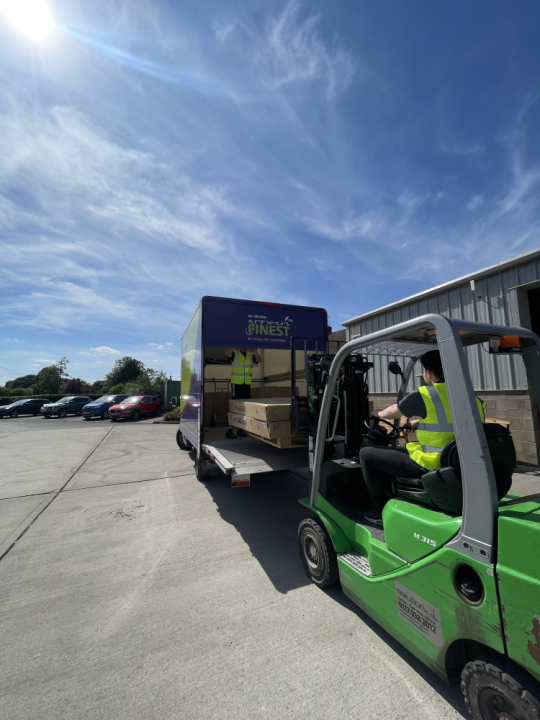 Click & Collect
At Trioscape, we offer the option to order products with click & collect. In the check-out process, you can choose to click & collect your order in our store. Orders can be collected anytime during our opening hours.

After placing your order, you will receive a notification by email when your order is ready to be collected at our tills. For orders placed on the weekends, the first possible day to collect your order is Monday.
For items not found on our website you can call the store and place orders of less than £100 over the phone.
All orders can be collected within the opening hours of our store, after receiving an email confirmation.